Serving our community since 1984, JML Remodeling, Inc. is a well established business, based on a very high level of customer service. From initial consultation through job production and follow-up, we put the homeowner first. We concentrate most of our work in the areas of Bethesda, Chevy Chase, Kensington, Olney, Potomac, Silver Spring, Takoma Park, Wheaton and NW Washington, DC.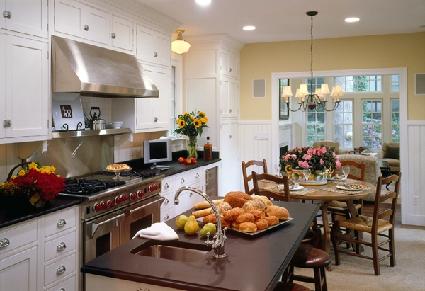 A high-end kitchen in Washington, DC
The focus of our business is the construction of home additions and total home renovations. We also do several fine kitchens and baths each year, as well as basements, home offices and other projects.

We have a full-time staff of well trained, professional carpenters. We work with excellent subcontractors for the specialty trades, such as electrical, plumbing and HVAC. Working with the same subcontractors for many years helps our jobs to flow as team projects.
We are able to do limited design work in-house, and we work with several top-notch designers and architects in the Washington/ Suburban Maryland area. Our work with these professionals has produced some spectacular projects, later photographed and printed in the architecture, home design and remodeling magazines.
We have a network of established suppliers in the area to ensure a good flow of finished materials into a project. Having dealt with the same vendors for many years helps eliminate many of the hassles that can creep into a remodeling project.

Please feel free to contact us via email, telephone, or fax. We would love to hear from you!
Office: 301-598-8400
Fax: 301-460-6959
Email: mail@jmlremodeling.com


Thank you for visiting our website. We hope to earn the opportunity to work with you, to help you make the leap from a vision of your home, to the home you have envisioned!


MHIC #36674 DC#70100819